ArrayHalf of Congress should resign, the lot of the corrupt psychos.
I understand Congress getting involved in the steroids topic, that's actually a smart thing. But over SpyGate? Bullshit.
[/quote]
Actually, they are not really all that different theoritically. Steroids give individuals unfair advantages in performance. 'Spygate' gives a team an unfair advantage in performance. They are both a form of cheating.
Now I think you are saying Congress has gotten involved in steriods because younger athletes were/are taking them. This IS a problem because these kids that were/are taking steriods are messing up their bodies, but unlike these superstar athletes most will never play in a professional league and will never be rich.
Now the question is, where is the line drawn with Congress getting involved with cheating in sports? Apparently it is somewhere between Steriods, and Spygate.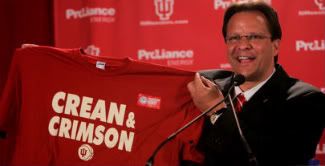 2008-09 IU basketball motto: My Team Is On The Floor!