ArrayRunning back Dominic Rhodes has rejoined the Indianapolis Colts, signing a one-year deal with the team he helped lead to a Super Bowl championship.
Rhodes, a free agent after being recently released by the Oakland Raiders, will receive about $650,000.[/quote]
Link
First thought: Bye Bye Kenton 'I can't catch a cold' Keith!
Second thought: Wait, the colts signed a Free Agent??? :lol:
Third thought: I guess Mike Hart won't be getting much time right away... which surprises me because Hart is an ideal back in this system. No Colts RB since Marshall Faulk has had blazing speed. Hit the hole and get 2-3 extra yards is what Edge, Rhodes, Mungro, and Addai have all done this decade and the Colts have produced 4 1,000 yard rushers. Other than injuries, there is nothing stopping Mike Hart from being able to produce similar numbers when called upon.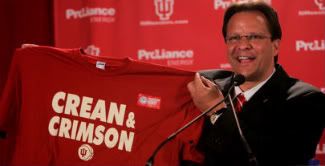 2008-09 IU basketball motto: My Team Is On The Floor!